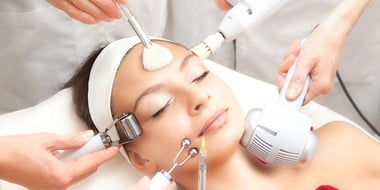 When it comes to anti-aging, the pursuit for the latest "it" treatments is never ending. Everyone wants to grow up mentally and physically but not many love the outcome that it has on their skin. I know you might be thinking "I don't have to worry about this nonsense, I'm barely in my thirties!" But did you know that from around the age of 25 the first signs of aging start to become apparent on the surface of the skin? Our skin ages for a variety of different reasons, and wrinkles are a natural part of the process. As we get older, our skin becomes thinner, drier, and less elastic, which means it is less able to protect itself from damage. Although applying SPF, moisturizing, and staying hydrated play an extremely important role in slowing down visible aging, let's dive deeper into which beauty treatments will change the way you view your skin forever!
MICRONEEDLING
Part of the magic of Microneedling is its amazing way of assisting in the prevention of visible aging. Microneedling, also known as collagen induction therapy, stimulates the body to produce more collagen rather than breaking down the collagen that is already there. This treatment reverses many signs of aging, including early signs of skin laxity, fine lines, and dull skin tone. Its amazing ability to trigger the production of collagen and elastin is the key to renewed, youthful-looking skin. Dermatologists have found that a few sessions of this treatment will noticeably reduce fine lines, crow's feet, and deep wrinkles on the forehead. Unlike a surgical procedure, microneedling requires little to no downtime and works with the body's own biological healing mechanisms to yield natural yet drastic results.
RADIOFREQUENCY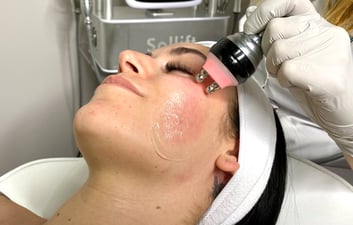 Radiofrequency therapy is a unique, non-invasive wrinkle treatment that uses radiofrequency waves to tighten sagging skin and reverse the effects of aging for a younger-looking appearance. During this treatment, thermal energy (heat) warms the deep layers of the skin to stimulate collagen production and promote tissue contraction for improved skin quality and appearance. It targets collagen because collagen is the most common protein in your body. It creates the framework of your skin and is what gives your skin its firmness. As you get older, your cells produce less collagen, which leads to sagging skin and fine lines; therefore, regenerating collagen production is the secret to tightening the skin and turning back the clock. Since the time for new cell turnover is 28 days, radiofrequency treatments can be repeated regularly to achieve cumulative effects. This non-invasive treatment includes absolutely no downtime, pain, or discomfort, and works wonders at reducing cellulite all over the body as well as erasing many signs of aging that have accumulated over the years.
MICROCURRENT
Microcurrent is an anti-aging treatment so successful it's been named as the 'Non-Surgical Face Lift'. These facials are one of the latest most talked about innovations in the beauty industry. If you have ever heard someone use the phrase " Take your face to the gym", they were referring to microcurrent facials! Microcurrent is popularly used to workout the muscles of the face, stimulate collagen, and tighten skin. Did you know there are 43 facial muscles and 26 neck muscles which naturally lose their tone and firmness through aging? Microcurrent therapy treatments utilize a low-grade electrical current to "train" those muscles. It contours, tones, firms and lifts the muscles and skin. This process may sound intense but the procedure is completely noninvasive, injection-free, and painless. As a natural alternative to botox and fillers, microcurrent therapy will transform your skin and give you a younger-looking firm and lifted face!
It's a given fact that we all want to remain young forever. With that said, we are a lucky generation because we have access to a wide variety of non-surgical youth enhancers that address physical age-related changes that occur with time. The above discussed anti-aging treatments provide just what we need to have that desired "youthful" appearance and ultimately turn back the time on our skin.
If you're a licensed professional, looking to expand your services or wanting to provide anti-aging services, here are a few systems that provide the treatments above:
Newlift Microcurrent System with Gloves
Duo Facial Radiofrequency
Goldskin Fractional Microneedling RF