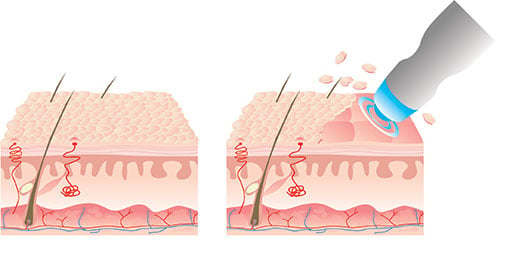 Microdermabrasion is a minimally invasive procedure used to renew overall skin tone and texture. It can improve the appearance of sun damage, wrinkles, fine lines, age spots, acne scars, melasma, and other skin-related concerns and conditions. The procedure uses a special applicator with an abrasive surface to gently sand away the thick outer layer of the skin, rejuvenating it.
Microdermabrasion is considered a safe procedure for most skin types and colors. People might choose to get this procedure if they have the following skin concerns:
- fine lines and wrinkles
- hyperpigmentation, age spots, and brown spots
- enlarged pores and blackheads
- acne or acne scars
- stretch marks
- dull-looking skin
- uneven skin tone and texture
- melasma
- sun damage
Two of the most popular forms of Microdermabrasion are Hydrodermabrasion and Diamond Dermabrasion.
Diamond Dermabrasion
Diamond Dermabrasion is a form of Microdermabrasion that uses diamond-covered tips to gently sweep the superficial layer of the epidermis to reveal a new, fresh layer of skin. The diamond-tip handpiece is designed to exfoliate dead cells off your skin and suction them off immediately. The depth of the abrasion may be affected by the pressure applied on the handpiece as well as how long the suction is allowed to remain on the skin. This type of microdermabrasion applicator is generally used on clients that have coarser skin, irregular texture, hyperpigmentation, or dull skin. Clients with sensitive skin or skin conditions like rosacea would not be good candidates for a Diamond Dermabrasion treatment.
Diamond Dermabrasion does a variety of things for your skin:
- Stimulates blood circulation
- Promotes the production of collagen
- Cleans and removes dead skin cells
- Decreases wrinkles and acne marks
- Reduces dilated and clogged pores
- Oxygenates and regenerates skin cells
- Tightens skin
- Leaves skin smooth and glowing
- Uses all-natural elements and minerals
Hydrodermabrasion
Hydrodermabrasion is an alternative to microdermabrasion without the use of crystals or diamond tips to abrade the skin. Instead, it combines the natural benefits of oxygen and water to shoot a pressurized stream of saline solution onto the skin. The high velocity of this procedure effectively removes dead skin cells at first contact, exfoliating and soothing the skin at the same time. This treatment is a great alternative for those with sensitive skin that want the same effects of Diamond Dermabrasion without the irritable side effects.
Hydrodermabrasion does wonders for your skin:
- Treats sensitive skin that cannot undergo other forms of microdermabrasion
- Decreases visibility of scarring and dark shadows
- Improves blood circulation
- Supports collagen and elastin production
- Tightens skin
- Leaves skin smooth and glowing
- Uses all-natural elements and minerals
Microdermabrasion is a great treatment for those who would like to renew their skin and virtually sweep away the first layer of dead skin to tackle specific issues. Glownar has a selection of systems that have Microdermabrasion modalities:
Purehydro system
The Purehydro System features a Hydrodermabrasion modality and a Diamond Dermabrasion modality that can be used dry or wet, along with a Radiofrequency modality for skin tightening.
Brilliance RF and Diamond Dermabrasion
The Brilliance System focuses mainly on Diamond Dermabrasion and also features Radiofrequency for skin tightening.
Hydro Soline 4-in-1 Facial Expert
The Soline System features Hydrodermabrasion and Diamond Dermabrasion modalities along with Radiofrequency for skin tightening and an Oxygen Infusion gun.
Bellezza 7-in-1 Skin Rejuvenation System
The Bellezza System features the Diamond Dermabrasion modality, along with a Microcurrent with LED modality, Hot & Cold Hammer, Skin Scrubber, Radiofrequency modality, Ultrasound Therapy modality, and an Oxygen Infusion gun.
Tru Hydro 2-in-1 Hydrodermabrasion and Radiofrequency
The Truhydro System mainly focuses on Hydrodermabrasion and features Radiofrequency for skin tightening.