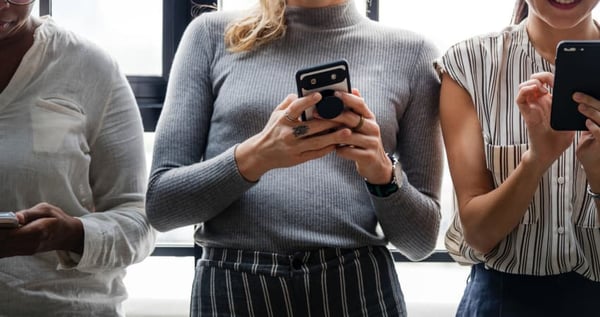 Social media platforms help you connect with your customers, increase awareness about your brand, and boost your leads and sales. With more than three billion people around the world using social media every month, it's no passing trend. Learning the ropes of media marketing is not always easy, so we put together a simple, easy-to-learn, step-by-step "tutorial" for growing your business on Instagram:
Information
It is very important to present information about your business and services in a clear, easy to understand, manner.
Your bio should consist of:
A clear list or description of your services and the type of business you have
The location of your establishment, or if mobile, a bullet in your bio stating so
The link to your business website
Any licenses or certifications you may have
Your Posts:
Your posts should clearly inform your audience of the type of service performed in said post, what the service entails, and what its benefits are.
Presentation
Clear high-quality photos & videos serve as the most appealing and professional way to show your audience what is it you do exactly.
Highlights: Having highlights for each type of treatment or service makes it easier for future clients to see more of the specific treatment/service, instead of having to search through your feed.
Posts:
- Try to stick to your company colors to maintain a theme; it's satisfying to the eye.
- Include your logo as much as possible. This way, the next time they think of a specific service or treatment, they think of your company. This also prevents your content from being plagiarized.
SOCIAL MEDIA MANAGEMENT
Unfortunately, it is easy to lose momentum when you're inactive for long periods of time, you seem inaccessible, or come off like more of a robot than a person!
Be Consistent: whether it's posting something educational, posting something to your story, or a post about your services, aim to post at least once a day, or every other day!
Interact with Your Audience: it's good to always respond to your comments or re-post something on your story that you are tagged in by someone. It makes your audience feel more confident in asking questions, and responding in a timely manner shows your audience that you're a serious business that cares.
Give Personalized Responses: Your responses should be tailored to each inquiry or comment. Sending automated messages or sending the same "thank you" response to every comment causes your audience and clientele to feel disconnected.
GAINING BUSINESS
Getting new followers can be difficult, but here are a few tips to help expand your page and audience:
Add your Location: adding the location in your posts and your bio helps people in your area or those that plan to visit your area find your business
Hashtags: hashtags are a great way to reach a larger audience and possibly even get your content on the explore page (where thousands of people will see). Hashtags also allow people looking for specific services or treatments to find your page! Use the most relevant and popular hashtags for your posts.
"Shout-outs": asking your clients to share posts that incorporate them on their stories and feed are a great way to gain exposure! Their audience will see their post, and be attracted to your page.
Collaborations: Teaming up with someone with a larger audience, giving them a product for free, or offering them a discounted service in return for them posting about your business is also a good way to gain an audience.
Giveaways/packages: Who doesn't like free stuff? A great way to gain some attention is by doing a giveaway or creating a discounted promotional package.
- Giveaways: when doing a giveaway, the best way to maximize the number of interactions is by asking that for each entry, the audience must tag a few friends and share the post to their stories.
- Packages: limited-time discounted services are a great way to make people feel a sense of urgency to buy right away.
Let's Get Social!
Remember to tag us in your posts using your Glownar system! We will happily repost you onto our feed to help you gain exposure and promote your business.
We receive numerous inquiries on a daily basis for businesses with specific services or systems in certain areas. Tagging us in your posts will allow us to stay updated on your business & location, so we can direct inquiring clients your way!