While masks already trap humidity, dirt, oil, and sweat on a good day, our chin, mouth, and nose area are even more susceptible to breakouts now that summer is here. Maskne is absolutely worse during the summer months as the increased oil production in our pores creates the ideal environment for cysts.
Only you can decide how you want to balance the weight of the mask material with the level of protection it will give you, but dermatologists suggest 100 percent cotton as a good compromise because it allows skin to breathe a bit. As the temperature rises and you sweat more, you'll need to keep the mask clean.
Another reason for using fewer products: The mask will intensify product delivery to your skin. (You've seen this side effect of occlusion in action if you've ever, say, treated dry, cracked feet by applying Vaseline and wearing socks to bed.) But in the case of products with acids or retinols, which can be irritating, intensifying delivery is not likely to be a good thing.
3. Break up with makeup (at least temporarily).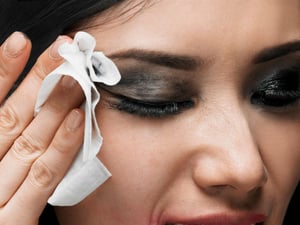 If you put on makeup for a video call, consider taking it off when you go out.
This is the time to really tone it down. For those who absolutely can't break the habit, a tinted moisturizer with sunscreen is suggested.
If you sweat underneath your mask, try using micellar water or a gentle cleanser to do a quick wash when you take it off. (Overwashing your face dries it out, tricking it into thinking it needs to produce more oil, which can give you more of the acne you're trying to avoid.) Either apply moisturizer or, if it's late enough in the day, whatever products you'd use at night.
How to Treat It if You Get It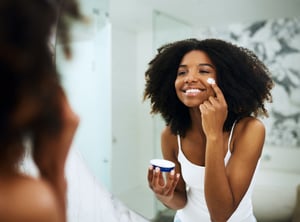 If you do end up with maskne, keep in mind that acne treatments can be irritating and you still need to contend with the continued irritation of the mask.Try using an over-the-counter benzoyl peroxide treatment only on the spots, and starting with a 2.5 or 5 percent concentration, not 10 percent. If you use retinol, apply that product one night and the spot treatment the next.
If you have black or brown skin and develop hyperpigmentation from the acne a topical with glycolic acid, which can treat both the blemishes and the darkening of the skin. Be cautious against long-term use of a skin lightening agent without the advice of a dermatologist.
If you are a person of color with hyperpigmentation, remember to wear sunscreen even indoors, because blue light from devices can make the problem worse.
If what's on your face looks like more of a rash or "makes you want to scratch your face off," it's possible your issue isn't actually acne. You may have contact dermatitis, which she sees patients get from metal or rubber parts of masks, and some fabrics (which, when washed, may release formaldehyde, an irritant) and dyes.